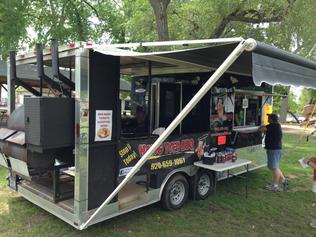 I'm happy to announce something that has been in the works for a quite a while now: a food truck rally in Appleton! This will be a monthly event over the summer months, but we only have a date and location set for the first one:
When: Thursday May 14, 4:00-8: p.m.
Where: Pierce Park in Appleton
Pierce Park has a fantastic new pavilion that was recently finished so there will be shelter and seating available.
We are really excited for these events! Green Bay recently beat us to the punch and had a very successful food truck rally. Unfortunately, we weren't able to attend that one, but it seemed like everyone that went loved it, and we are hoping you all will be just as excited for this one! There aren't too many food trucks in the area so this will be a great opportunity for everyone to see what's out there and try some great local food!
Some of the local vendors that are confirmed attending with links to their websites or Facebook pages are: Hawg Tyed BBQ (obviously),
Mr. Taco
,
Egg Roll Plus
,
Tasty Wieners on Wheels
,
Pizza Fromage
, and
Kona Ice
. Possibly, a few more vendors will be joining us also. This first Rally will be a little smaller but we have a great variety of delicious food. And if you guys really like it we will definitely invite more vendors and really grow this as the summer goes on!
I hope to see you all there! We can't wait!