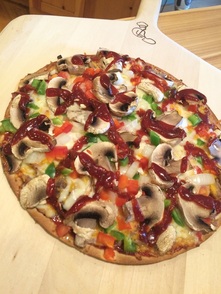 Here at the Hawg Tyed household we often find ourselves with leftover Barbeque. That is the opposite of what you'd call a "problem", but sometimes we need to get a little creative about what we do with leftovers. As you may imagine, we have a ton of ideas and recipes, and I would like to share some of them with you guys here!

The first one is our BBQ Pizza. To anyone who knows me it's no secret that if there is one food that rivals my love of barbeque it is pizza, and BBQ just happens to combine those two loves! It's super easy to make which makes it perfect for a quick snack or for a last minute dinner. One of the great things about pizza is that there is really no wrong way to make it; pretty much anything you throw on it will turn out pretty tasty, but here is how we go about making our BBQ Pizza.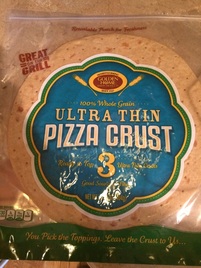 First things first is the crust. For a quick and easy pizza my favorite crust to use is Golden Home crusts made here in Appleton by Quaker Bakery. They come in 3 packs of 12 inch crusts (pictured above) and also in 5 packs of smaller 7 inch crusts which are nice for making a variety of topped pizzas if you are cooking for some picky eaters.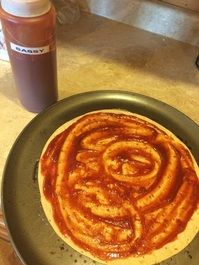 A BBQ pizza obviously needs some BBQ sauce. My favorite of our sauces to use on a pizza is the Sassy sauce. It has some pretty great flavors that comes out when it is baked, but it also gets a little spicier so the tangy might be better for those of you who you don't like heat. Whether you use one of our sauces or a commercial sauce, I would recommend staying away from very sweet sauces like Sweet Baby Rays. I find the sweet flavors get amplified when it's baked and are way too overpowering on pizza. If you don't have our sauce on hand a commercial sauce that I really like that also works great on pizzas is Stubb's Original Barbeque Sauce.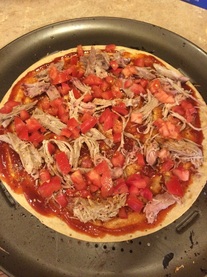 Meat placement is important. Whether you are using pulled pork, pulled chicken, or brisket you will find that it gets dried out if you just put it on top of the cheese. Instead put it right in the sauce so it stays moist. I also like to dice up a tomato and sprinkle a little crushed red pepper at this stage for even more flavor.
Finally add cheese (about 8 oz of both cheddar and mozzarella) and top with whatever veggies you like (I usually go with some red and green peppers, onions, and LOTS of mushrooms). Lightly drizzling a little more sauce on top helps keep the meat from drying out and adds a little more flavor. Then pop it in the oven at 425 for about 15-20 minutes making sure the crust is crispy and brown (it's no fun having all your toppings slipping and sliding off a limp crust), and you're done! A BBQ pizza is super quick and easy to make but it is seriously delicious. Let me know if you guys try it out and what you think!

And be warned; you can't make just one because everyone is going to want a slice.