Spring is finally here and that means out with the old and in with the new. For us that translates to some new wheels. You may have already seen us out and about with our new rig. Our old red pick-up truck was good to us, and it's sad to see her go, but we needed an upgrade. Storage has always been an issue, and loading and unloading our heavy generator every day was getting old real fast. So, during last fall we found the new HAWGZILLA.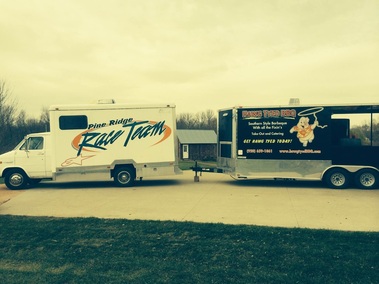 An astute observer will notice that the truck and the trailer don't match too well in that picture so before winter hit we cleaned off the sides, and made plans to get new decals in the spring.
We also bought a new (well, new to us) generator to power the trailer that would be mounted in the back of the truck. The generator and truck both ran like a dream in the fall so we hunkered down for a long winter ready to pump out the barbeque the moment the snow was gone. Buuuuuut things didn't go so easily. We took the truck out for her first ride of the year a few weeks before vending started and noticed that the blinker didn't work. Easy fix right? It should be; except, once the blinker was fixed the truck wouldn't start. After Denny got it running then the brakes didn't work and so on down the line...After some creative language, a lot of trial and error, and a little bit of fire, the generator and truck were finally ready for barbeque season.
All that was left was to get the decals on so it looks nice and pretty pulling the trailer down the road.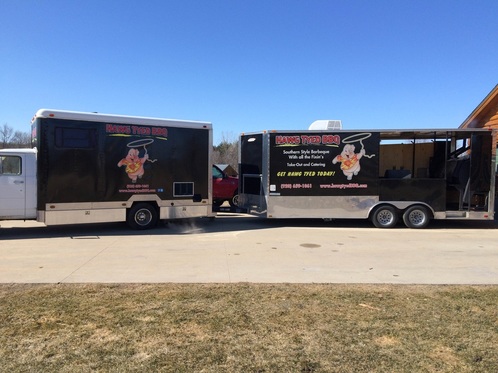 We still need to paint the cab black, but we are very happy with new truck. It will allow us to do larger events because of all the storage we have, and will make vending easier to manage because of the back-up supplies we can have with us. Also the new generator is completely insulated in the back of the truck so the generator noise is greatly dampened. No more loud engine noises while you eat your BBQ! I'm sure you will see the new rig out and about this summer, and we hope it will allow us to get Hawg Tyed to you all more often!