Hawg Tyed Menu
For a printer friendly menu with prices included click

here

.

We regularly serve most of the items on this menu, but the menu does change day to day. See below for further details.
---
Classics
Our menu changes day to day, but certain items are always served. The Classics are the tried and true Barbeque staples.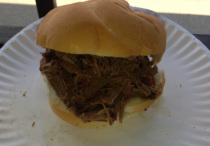 Sandwiches: Generous amounts of Smoked Pulled Pork, Pulled Chicken, or Brisket sandwiches on a kaiser roll. These come in our regular size or, if you're really hungry Hawg Size. Sandwiches come unsauced so you can add your favorite Hawg Tyed sauces, or add Cole Slaw to really top it off right.

---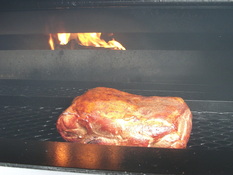 Meats: Sometimes you just want some meat. Pulled Pork, Pulled Chicken, or Beef Brisket can be ordered as a single serving or by the pound. When ordered by the pound we include our homemade BBQ sauce on the side. We ask that you call in advance for any order over 2 lbs.

---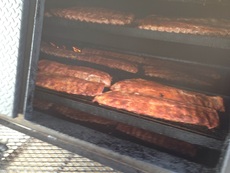 Ribs: Either St. Louis style or Back Ribs depending on availability. Full Racks are served with our Sweet sauce glazed on top. Ribs sell out fast so stop by early or call to reserve a rack.
---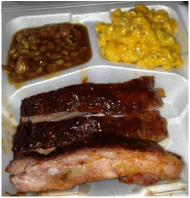 Sides: No meal is complete without homemade sides. Try our Hearty Baked Beans, Mac N Cheese, Garlic Mashed Potatoes, Corn Bread, or Cole Slaw. Either single orders or by the quart, or try adding Slaw to your sandwich. If you have any other requests for sides just ask. We can do just about anything.
---
---
Specials
Everyday we have different specials including
Pulled Pork Nachos
,
BBQ Parfaits
,
Pulled Pork Tacos
,
Chicken Wings
,
Moinks
,
Brisket on Weck
,
BBQ Pizzas
,
BBQ Wraps
,
Smoked Jalapeno Sausages
and much, much more. We post our specials on our
Facebook
and
Twitter
accounts so check in there to find out what we are cookin'.
---
Family Packs and Bulk Orders
Our Family packs are perfect for bringing home for a hot family meal. They include your choice of meat, sides, sauce, and kaiser rolls and come in two different sizes. As is the case with any bulk order it is appreciated if you call in advance to ensure we have enough of everything hot and ready for you to bring home.
Bulk orders (whether they are family packs, bulk orders of our meats, or anything else) can be ordered and picked up while we are vending or picked up at our home base. Locations can be found
here
.